I don't like football.  I don't get football.  At several points in my life, various males have attempted to explain the "down" system in a way that made any sense whatsoever.  They failed.  To me, football is the American equivalent of the gladiator ring.  We can't condone fighting to the death but we can allow boorish fans to revel in blown ACLs, ripped rotator cuffs, and the chronic head trauma that leads to Swiss cheese brains.
Super Bowl LII provided the perfect opportunity for me to do my Target shopping.  It just so happens that Justin Timberlake visited my Target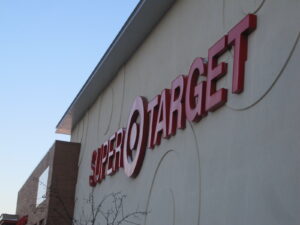 in the days leading up to LII.  This video dropped Friday, inducing a frenzied rush of JT fans screaming "Aardvark!!!!!"
Super Bowl Sunday was COLD.  I wore my Minnesota Suit and Tie and drove my SexyBack minivan to JT's Target.  Got me some rock-star parking (Not a Bad Thing).  Contrary to popular belief, the Midway Target in St. Paul isn't a Filthy, understaffed warehouse full of cheap, household Supplies.
The Body Count in the store was low, with aisles as empty as the Blue Ocean Floor.  A huge display of bikinis assaulted me, taunting me to Pose in front of the Mirrors.  Not My Style. I walked the Five Hundred Miles to the back of the store, Fascinated by the thought that Justin Timberlake breathed the very air around the Man of the Woods display.  I Can't Believe It.  There's no shrine.
I asked the Target tech dude (who looked like he'd rather be Livin' Off the Land) for the straight scoop.  What went down on Friday?  Give It To Me!  Tech dude said JT came in on Friday, shot some video, spent some Money, walked around, and Nothin' Else. 

Hm, I thought.  I Can't Stop the Feelin' that I'm not getting the True Colors of the situation, the Holy Grail of investigative journalism.  The self-checkout helper dished the real Sauce.  That Girl said the whole thing was a scam.  Timberlake arrived on Monday, spent a couple minutes surrounded by security in the back of the store, signed exactly five albums, posed with a cart filled by someone else, and left.  4 Minutes max.  Did he at least Say Something, take some Super Bowl Selfies with fans?  Nope.  Well, Cry Me a River.
#Sadface.  JT, you had a chance to Rock Your Body with good Minnesotans, folks acquainted with The [actual] Woods, people who would give you the several feet of personal space you deserve.  What Goes Around…Comes Around, dude.  We can see the Signs, stare right through your web of Flannel deception.
Sure, we'll be nice, Role Model Minnesotans.  But Ain't No Doubt About It, you can anticipate a lukewarm, passive-aggressive reception Until the End of Time.