I left for college with one bad fiberfill pillow and a quilt that I covered with two sensible blue-with-white pinstriped poly blend twin sheets.  Tommis, my girl-cat, helped me hand-tie the quilt overlay, all of us (including the quilt) lounging on the puce green living room rug.
Freshperson year, I slept on my stomach from 11 pm to 7 am, the pillow at a 45 degree angle, left arm under, right arm over.  I hitched my right knee up and pressed my left cheek to the pillow.
Times have changed.
This is my bed.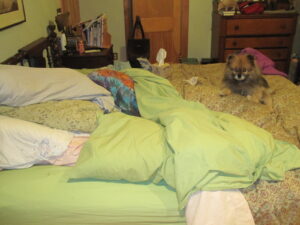 There are a few elements that I wish to describe in more detail, elements that contribute to the overall superior sleep experience.
1) Overabundance of pillows.  I now actively sleep with seven pillows.  With Ace in the bed, the number increases to twelve.  I flipped to side sleeping when I was pregnant and never went back.  Acid reflux during pregnancy cranked up the pillow count.  I stopped being pregnant but never quit the pillows.  And what's a bed without a body pillow?  And one more for that behind-the-back, snuggled feeling.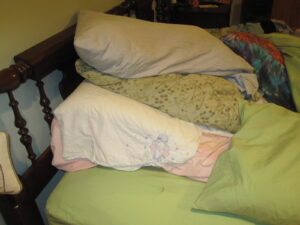 2) Absence of husband.  Ace removed himself from our marital bed during my recent bout of catarrh and coryza.  He'll come back after we wash the sheets.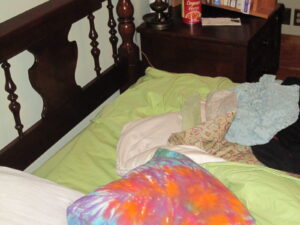 3) Labrador retriever pawprint.  Nothing makes you feel the love like a visit from a dirt-pawed lab.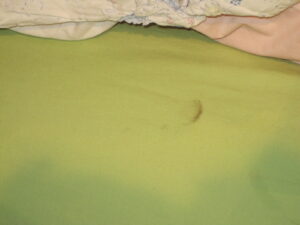 4) Unfolded clean laundry and tissues within easy reach.  I can't recommend the Trader Joe's tissues.  They feel like 120 grit sandpaper.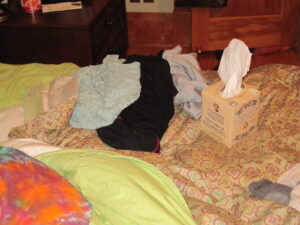 5) Dirty socks courtesy of the labrador retriever.  He particularly enjoys retrieving dirty socks.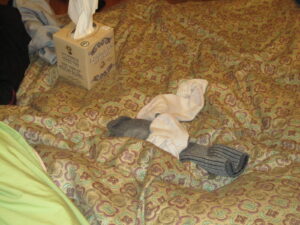 6) Thrift store cashmere waiting for end-of-season hand laundering.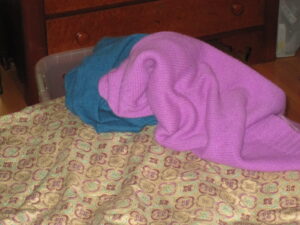 7) Pomeranian.  Because no bed is complete without a Pomeranian.  Truly.