My favorite thrift store, Steeple People, closed up shop at the end of January.  Our building, at the corner of Franklin and Lyndale in the Uptown neighborhood of Minneapolis, will be torn down and a big old condo complex will erupt like a giant pustulent zit.
The ramifications of this ending are widespread and profound.  Steeple People provided a safe, friendly space for folks to walk in and simply hang out.  And you could buy a coffee mug for fifty cents.  On a more personal level, without Steeple People, my family will relatively soon be completely naked.  If you and I are friends, like gift-giving-friends, you've received your last gift.  Sorry.  That's it.  The well is dry.
Naturally, I want Steeple People to continue in some form and a small group of us are working like rabid squirrels to see if our dream can become reality.  Part of the dreaming process involves envisioning a retail space, a space equipped with stuff.
And what better place to think about stuff than on Craigslist.  Prior to a week ago, I hadn't realized that Craigslist has an entire section devoted to free stuff.  You simply google "Craigslist free stuff," click on the link, and a massive list of FREE STUFF pops right up!  People post new FREE STUFF literally every other moment and you can spend hours avoiding family members, neglecting the pets, and forgetting to pay bills while you scan the old couches for that Danish modern pièce de résistance.
I want to share with you the highlights of one particular twenty-four hour period on Craigslist Free Stuff, including the published item descriptions.  Be forewarned.  I am the granddaughter of a bonafide hoarder, a woman who trashed five houses and was locked out of her domicile one Christmas Eve by the Wisconsin Department of Health because her home was unfit for human habitation.  Like my grandma, I can see the potential in just about anything.  To quote Grandma: "If you put a stake in the middle of it [it being an ancient, battered, aluminum jello mold], a dog could drink out of it!"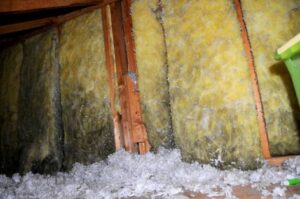 Item #1: "Free wet insulation – I've got lots of it in my garage, you haul."
I'm totes at a loss with this one.  Can anyone think of a single possible use for wet insulation?  Oh wait!  Growth media in a lab for toxic black mold?
Item #2: "Couch – free couch must go"
The presentation is really remarkable.  Dead leaves, duct tape, sand???  Not even remotely tempted by this one I'm afraid.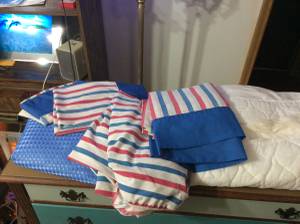 Item #3: "Free Bedding, Full Size / 70s Red White Blue Stripes - Free full size bedding set: Freshly laundered fitted and quilted mattress cover, with red white blue striped sheets and pillow covers, and newer bright blue bedspread. Unused since 1976. Good, soft, and clean condition. Bed pictured is gone."
Oh, I wanted that sheet set for sure.  Probably started out as a cotton/poly blend and all the cotton is washed out, leaving that silky non-aerating polyester sensation, likely accompanied by the scent of someone's grandpa.  I'd take the chest of drawers, too.
Item #4 (no photo): "cranberry tree approx 7 feet free but must dig up first!  Item Details-Approx 7 foot cranberry tree but needs to be dug up first!"
So here's the thing.  Cranberries grow on vines in bogs.  The element of mystery nearly forced me to respond to this ad.  Could be Viburnum trilobum (high bush cranberry) – not actually a cranberry at all.  Could be a crabapple.  Could be a sour cherry.  Exciting!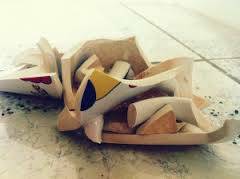 Item #5: "Free mug – pick up anytime Friday"
Wow.  This one is just simply awesome.  Not "broken mug."  Just "mug."  Is it a joke?   But I could turn those shards into a mosaic or garden ornamentation or…
Item #6: "Used yogurt lids from the Philippines - five used metal (aluminum?) yogurt lids from the Philippines. You might be able to recycle them and get a few pennies back"
This post is worthy of my grandma.  You have the post-Depression mentality of using literally everything and once you've exhausted all potential uses, you must unite objects with the perfect next person, the one who will unlock hidden potential or (minute) financial reward.  My own thought: Christmas tree ornaments, amirite?
Item #7: "Pack n play wedge and Danny slings - Free pack n play wedge and three Danny slings.  Clean, non smoking pet free home."
This stuff is sometimes used when babies have gastro-esophageal reflux.  Used correctly, it can be helpful.  Used incorrectly, it's a great way to strangle or suffocate a child.  Needless to say, my blood pressure goes up when I see it up-for-grabs without an accompanying physician.
Item #8 (no photo):
"Feed Corn Organic (Minneapolis) - This was high quality Organic corn, but its contaminated with little bugs, we have 2 totes about 4000LBS. NOT FOR HUMAN CONSUMPTION. great for pigs, cattle, chickens. farm animals. Must take at least 1 tote. FREE."
Holy cow, that's a lotta corn.  "Must take at least 1 tote" = must take at least 2000 pounds!  That rules out us city folk puttering around with a couple backyard chickens…
Item #9: "Ham-Dogger - No hot dogs? Shove ground meat in a tube. I personally think it's disgusting which is why I'm giving it away"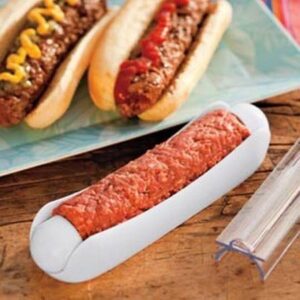 I really want to know more about the story.  How did this person wind up with a Ham-Dogger in the first place?  Was it a gift?  An internet freebie?  Who invented the Ham-Dogger and what were they smoking?  And gosh golly, that thing's $27.44 on Amazon!
Item #10: "Free, good sand (it was blessed too) - So I've got this sand from my wedding ceremony if anyone needs it. I'm divorced now and it brings up bad memories so don't ask details. Approximately 1/4 cup sand….I will NOT split the sand, it is only free to the first ONE person who responds (it's bad juju to split it up man)"
I don't even know what to say.  The post says it all and more.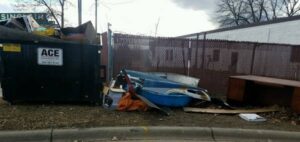 Item #11:  "Authentic racecar body panels and wood desk - Perfect addition to Man-Cave or desk in decent shape!  In cul-de-sac just north of ___ Sinclair.  Don't wait, could be picked up by garbage service on Thursday!"
Hm.  The description leaves me cold.  The photo, however, offers a tantalizing view of a jam-packed dumpster.
Item #12: "Hundreds of cheese stickers - Are you an artist? Do you like stickers? Do you love cheese? If so, maybe you can find a use for a thousand cheese stickers."
Okay, so I wanted these.  Badly.
And finally, lucky Item #13: "Ace of Base free single - Giving away my only copy of 'I Saw The Sign' by Ace of Base. The cd is scratched so it only plays the first 23 seconds over and over but it's too good not to share with the world (I put it on my iPod so that I can listen to it anytime I want!!)"
I had to read the description several times and consult with YouTube to fully understand what's being offered.  I guess I could put a stake in the middle of it and a dog could pee on it.
Last second addition that I just spotted when I took a quick peek before bed – it's a FREE COFFIN!
"Tanning Bed - Free working older tanning bed. Moving and can't take it with. It is very heavy must have straps to move and its in the basement. Two men put it in the basement."