A long long time ago (Sunday), in a galaxy far away (St. Paul), I wrote a piece in preparation for my Monday blog.  I read it over and realized, yikes, this thing is depressing in the way that only dead babies can be depressing.  The May air fluttered with the subtle fragrance of crabapple blossoms and the disconnect was way to striking for me to ignore.  I ditched the post.
A long time ago (Monday), in a galaxy far away (St. Paul), I thought gee, I'll just whip up a perfect domestic moment and share it – with love.  In retrospect, this is absolutely ridiculous; I am not a domestic goddess.  My agency sister, Charlie Holmberg, recently posted a picture of s'mores rice crispies and I'm like, perfect, it's Star Wars Day and we'll just whip up some RICE CRISPIE GALAXIES.  And now that I look at the original photos I realize the complete futility of this entire exercise.  (Gently bashing head against stone counter.)
I don't like regular marshmallows.  I feel like I'm popping little petroleum pellets.  So I figured I'd upgrade the recipe and use natural marshmallows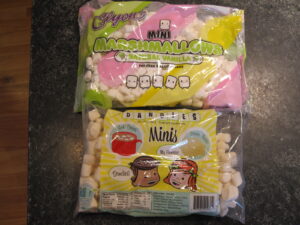 from my foo foo healthy-food co-op.  I melted the butter and added the marshmallows and waited.  And stirred.  And sampled.  And added vanilla.  Sample some more.  And waited.  And stirred.  And snacked.  And they turned into a warm blob, a warm DENSE unspreadable blob.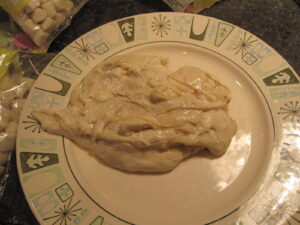 Tasty, though.
Bring on the petroleum, hello Philip Morris!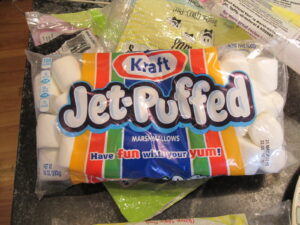 More butter.  I dumped in ten ounces of perfect uniform pillows and stirred.  They melted exactly according to plan in a wonderful melange of marshmallow spinnbarkeit.  (Don't click that link if you're easily grossed out.)
I scraped the sticky rice crispy mess onto parchment paper and mashed it into an amoeba. Come on, Anne, you can make a rectangle.  I mashed some more and managed to eke out a paramecium.  The melted Ghirardelli bittersweet chocolate chips were super tasty.  Easy to spread, too.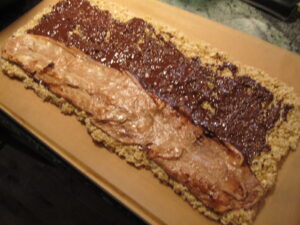 By this time, my pancreas was lying on its back begging for mercy.
Graham cracker crumbs and the blob of natural marshmallow (in a line like the chocolate in a croissant) and I was ready to roll.  I used the parchment to shove the mess into a roll then sliced it to make my little galaxies.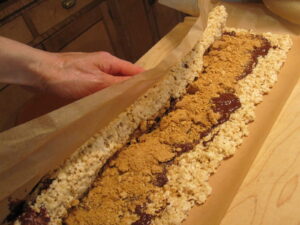 Of course, I had to sample the finished product.  Crunchy crispy sugar slathered with sugar and sprinkled with sugar crumbs with a sugary nougat in the middle.  The Big E loves them.
I felt sick for the duration of the evening, even after eating an entire plate of vegetables.  The dishes proved insufferable, crusted with cement-like barnacles of melted marshmallow.
So.  There you have it.  A moment of domestic bliss.  Happy late Star Wars Day.  And May the Fifth Be With You.