I wonder sometimes if there's any leeway with that whole open casket thing.  Could you ask for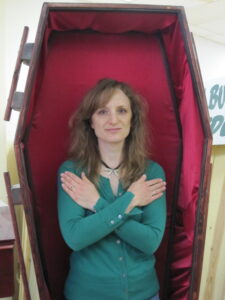 crossed arms like an Egyptian mummy?  Or one hand raised in a peace symbol?
How about your head cocked to one side with a wink?  You can't have a static wink, so a tiny motor the size of a hearing aid could be embedded behind your ear and a wire would tunnel under the skin and cause one eye to wink – randomly – to maximally freak everyone out.
Or what about showing the feet.  Bare feet.  Pink painted piggies poking out from white satin.  Maybe a toe ring on the pinky.
Dearly Beloved, I wish to be displayed sitting at the bench of a nine foot Steinway grand,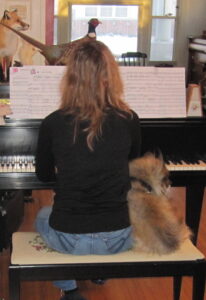 eyes closed, a smile on my face, fingers splayed in the double-staffed final page of Rachmaninoff's Prelude in C sharp minor.
Then burn me and turn my ashes into a three carat orange diamond that my descendants will be burdened with until I'm erroneously donated to a thrift shop.         A fitting end.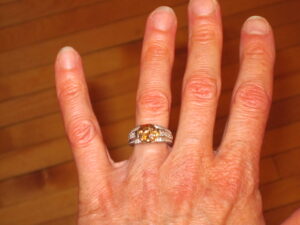 Special thanks to Mike Zoff of Affordable Coffins (595 North Snelling Ave, St Paul, 55104; 651 208-6902.  Mike is a charming, gentle man who builds affordable, classic coffins right in his shop.  He works with a large variety of clients, tailoring each coffin to specific cultural and aesthetic preferences, all at a fraction of the cost of a typical casket.