Residents of the Twin Cities awoke Thursday morning to discover that they were in Hell and that Hell had, in fact, frozen over.
Rain late Wednesday turned to snow, leaving two inches of packed ice under ten inches of fresh flakes.  The snow fell gradually during the night, lulling winter-weary Minnesotans into a false sense of security.  Come morning, most residents agreed that their souls felt suddenly and inexplicably damned.
Ace, a Saint Paul dweller who declined to provide his last name, reported lightning and thunder as he obsessively shoveled during the evening.  Meteorologists later confirmed the "thunder" to be the laughter of Satan.
Anne Lippin, also of Saint Paul, changed her name to Sisyphus.  Neighbors claim that Lippin Sisyphus could be heard screaming, "Why the Hell do we live here?"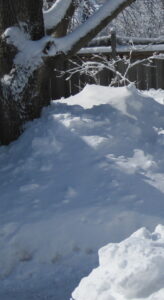 Several thousand Minneapolitans flocked to the airport, attempting to depart from Hell.  After submitting to fourteen TSA rituals, searches, and body scans, they returned to their homes, defeated.  Many lost their shoes during the process.
Workers found their morning commute to be, well, Hell.  Accidents numbered in the hundreds as the base of packed ice rendered brakes virtually useless.  Those who arrived alive at the office discovered it was time to start the long trek home.
Some folks remained skeptical, continuing to believe in the existence of Minneapolis and Saint Paul.  Angela Moua of Crocus Hill said she was initially confused.  "I walked out of my house this morning and was like, wow, I'm in a magical winter wonderland.  Then the minus twenty windchill whipped across my face.  Isn't it almost March?"  It took Ole Halvorson of Northeast Minneapolis four hours to dig out his car.  When asked if he thought he was in Hell, Halvorson replied, "Well, I dunno.  Guess it could be worse, yah."
As residents grappled with hellish conditions, scientists scrambled to explain the sudden transformation of the Twin Cities into a living Hell.  Current theory suggests that Hades cooling is the flip side of global warming.  Why then did it strike Minnesota?  Fort Lauderdale resident, Teeny Bikini, believes Minnesotans finally got what they deserved.  "All those surveys saying Minnesotans are the happiest and hippest and healthiest and fittest.  It was bound to go to Hell."
Experts believe we should anticipate strange events, the kinds of things that happen "when Hell freezes over".  So be on the lookout for healthy fast food, honest politicians, peace in the Middle East, and a mature Justin Bieber.