In junior high, I developed a profound love for sheep.  Not a fetish, but definitely a mild obsession.  My collection expanded to the point that we could decorate for Christmas exclusively with sheep.  Over time, I sheared the collection to a manageable dozen or so favorites.
I still get the occasional zing of sheepish joy, most recently from BaaaStuds YouTube video, "Extreme Sheep LED Art".  For years, I resisted buying an aluminum sheep cake mold, assuring myself that I was so over that phase.  Temptation finally won.  Thank you Steeple People Thrift Store for once again making my dreams come true for under three dollars.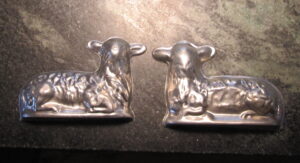 Sheep cake molds tend to appear around Eastertime –  the whole Lamb of God thing. Make yourself a cute fluffy cake decorated in white icing and coconut AND THEN EAT IT.  Transubstantiation is creepy (that'd make an awesome t-shirt) but it did bring up fond memories of playing Herod in Jesus Christ Superstar during Winter Term my senior year at Oberlin.  Our production, set in an unidentified eastern bloc nation, featured a lesbian Jesus.  Because, duh, Oberlin.
Anyhew, shortly after the purchase, I decided to use the lamb mold to make a buck cake for my in-laws' anniversary.  The in-laws hail from deer-country Minnesota and nothing says "Happy 60th Anniversary!" like a homemade buck cake.  My husband thought not, muttering something about "Lippin humor" and "how about a nice normal decorated cake".  Fine.  I purchased a Turtle Cake with Pecans from Cafe Latte and The Big E and I improved it with green and orange frosting.
Christmas provided another opportunity, because nothing says "Merry Christmas!" like a buck cake.  Once again, Ace put the cabosh on it, reminding me that we expected 27 people at our home Christmas Eve and perhaps dinner (actual venison) was more important than dessert (pretend venison).
'Twas the night before New Years Eve and I can only blame the rising viral titers of my upper respiratory infection for convincing me that nothing says "Happy New Year!" like a buck cake.  I arose from my bed to see what was in the batter.
At three pm 12/31/13 The Big E and I set to work, starting with a Moosewood Cookbook recipe for "Orange Cake".  (It turned into strawberry lemon cake, but whatever.)  We greased and floured the pans per my mother's admonition.  
The Big E fashioned antlers from pretzels and marshmallows which we then coated in melted chocolate chips.
I creamed the sugar with THREE STICKS OF BUTTER.  The dough looked real pretty once I added the radioactive-yellow-yolked free-range chicken eggs.  Ace blithely recommended leaving space for the dough to expand.  Pshaw.
We popped the pans into the oven and set the timer.  Shortly thereafter, I remember thinking it was premature for anything to be burning.  I opened the oven to find that my molds runneth over.  Smoke billowed into the kitchen, driving the menfolk into the basement to play with knives.
The captain remained with her sinking ship.  I opened windows on both the port and starboard sides.  Cross-ventilation with minus four degree air!  Refreshing!  Invigorating! It's not every day a gal can experience simultaneous frostbite and smoke inhalation injury.  My sinus drainage froze to the back of my oropharynx like a soothing viral lozenge.
I shoved a cookie sheet into the oven to catch the drippings and noted a slight problem. From the basement, Ace assured me that open fire shouldn't be a debilitating issue for the oven.   The Big E chimed in with "chestnuts roasting on an open fire…"
About that time, I received an urgent message from the furnace: "wth r u doing wmn?" (I'm anticipating a love letter from Xcel Energy in the next couple days.)
Ding!  I pulled out the cake pans and the drippings.  My mother had neglected to mention the necessity of internal and external greasing/flouring.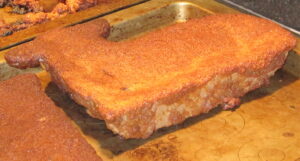 The golden-brown parts of the drippings proved quite tasty.  I snacked on a candlestick-run-amok (or a partially-charred phallus depending on your perspective)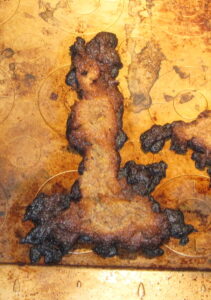 and admired a doughy collection vaguely reminiscent of drawings I once made for patients of the transverse, descending, and sigmoid colon when afflicted by diverticulitis.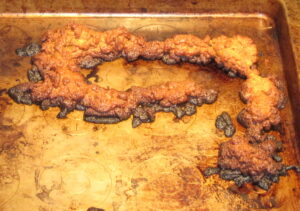 In a New Years miracle, the cakes popped right out of the pans once I scraped off the excess.  The Big E inserted the antlers, applied a layer of powdered sugar + almond milk glue, reinforced the structural integrity with toothpicks, and VOILA!  A BUCK!  Even Ace expressed delight at our finished product.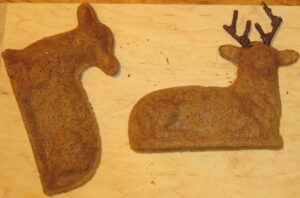 The Big E helped himself to a serving of "venison" in an unwitting reenactment of the death of John the Baptist.
And I settled down for a long winter's dishwashing.  Baah humbug.