Dear Henry:
We celebrated the first family Christmas without you this year.  Santa gave Rafa a bat costume.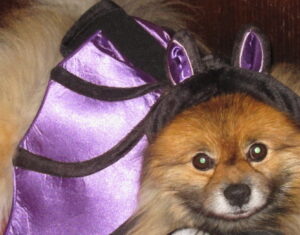 I'm pretty sure he didn't ask for one.
Cousin Torrey wore her holiday dress.
It's two and a half months since your death.  You quit eating almost a week before you died.  The weight melted off you, leaving a furry skeleton and your lovely pointed patent leather ears.
It was hard to see you so mellow, unnaturally quiet.  You were never at a loss for words.  But people couldn't take you seriously.  You were too tiny to be any real threat – or so they thought.
You came to me at a dark time, an angel disguised as a seven pound terrier Chihuahua mutt.  You initially barked your head off, butt down, like you wanted to gnaw off my left foot.  When I held out my hand, you laid your head in my palm.
How many children did you bite before I figured out that you're a one-person dog?  A one-adult dog.  Don't pet him, I'd say.  He bites.  No really.  He WILL bite you.
How many boyfriends did you bite?  Several of mine and at least one of Ruthy's.  You called it on every last one.  Trusting your initial canine judgment could've saved us a boatload of heartache.
I'll think of your mouth whenever I smell something particularly rank and you'll smirk down on me from the great dog park in the sky.  Whenever I miss you dreadfully I'll wander around the house with a black light, reminiscing about all the places you peed.
Thank you for loving me fiercely and irrationally.                                                              Thank you for protecting me from anything with a heartbeat.                                                     Thank you for believing that I'm worthy of your devotion.
I love you Henry.  Rest well.