Woke up to minus three degree weather today.  Refreshing!  Started with a bowl of shredded cardboard (Kashi GOLEAN).  Threw on a pair of holey Jockey Elance periwinkle blue cotton undies (JCPenney clearance bin), Thorio brown + baby blue x-c ski socks (clearance @ Marshalls), men's Sierra Pacific navy wind pants with jersey lining (provenance unclear), black Gap long-sleeved T with fetching asymmetric white stitching (fished out of fabric recycle bin at Steeple People Thrift Store), and my Oberlin hoodie (wedding gift from fave psych prof, Karen Sutton).
Bright sunny day with lovely crisp air.  For school drop-off I wore my black Lands End down comforter with sleeves (neighbor's yard sale $6), brown North Face fleece hat ($2 Steeple People), black REI mittens (romantic Christmas gift from my husband), brown no-name plastic sunglasses (stolen from hubby's car), and my mostly-brown Bogs boots (online summer clearance).

I just find the combination of brown and black to be so rejuvenating on a brisk winter morn.
For lunch, I dined on leftover chicken, generic wheat crackers, and half-rotten grapefruit.  Oh, and a delightful glass of water.
Throughout the day, I periodically donned my living fur, Rafa. 
This versatile garment can be worn as a lap warmer or even a neckpiece!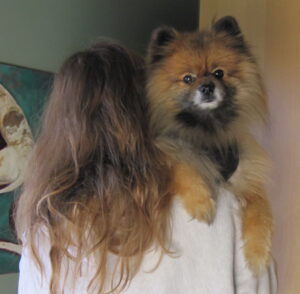 I obtained him at a very reasonable price from Second Chance Animal Rescue.
Tonight, I'll slip into something sexy: my husband's beige knee-high athletic socks (50 cents Steeple People), a men's XXXL Minnesota Wild raglan-sleeved T (50 cents church rummage sale), and my nighttime bite splint (super cute and ridiculously expensive!).
Tomorrow, you can expect me to wear EXACTLY THE SAME THING.  Except I'll probably put on new undies.
(If you want to see what Ginnifer and Tamron and Fergie and Ali wore, click here.)